Are You At Risk for Macular Degeneration?
Age-related macular degeneration, or AMD for short, is the 2nd leading cause of blindness in people 45-64 years old. How do you know if you are at risk?
Read on to find out!
First off, it is important to distinguish between the two different types of AMD: dry and wet.
Dry AMD
Dry macular degeneration consists of deposits that form in the back layer of the eye, known as the retina. These deposits are called drusen. As these deposits accumulate, they can negatively affect vision. In some cases, permanent scarring can even occur.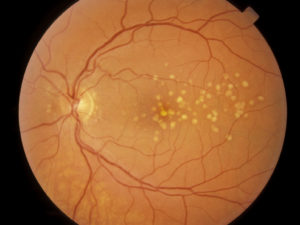 Wet AMD
As deposits (drusen) start to build up, the retina becomes deprived of important nutrients and oxygen. It tries to form new blood vessels to as a solution. However, these blood vessels can grow in areas that they should not be and may start to leak, causing bleeding in the retina. When this occurs, it is now known as wet AMD.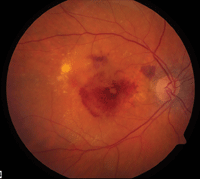 What are the greatest items that put you at risk for AMD?
– Increasing age, especially being over 75 years old
– Caucasian ethnicity
– Family history of AMD
– Light colored eyes
– Cigarette smoking – Smokers are 2.5 X more likely to develop AMD!
– Farsightedness
– High blood pressure
– Female gender
– Cardiovascular disease
Have any of these risk factors? Here is what to do next.
1. Schedule an appointment with us. The only way to truly know if you have AMD is for an optometrist to take a look in the back of the eye to look for signs of drusen and other AMD-related changes.
2. Purchase a pair of good sunglasses. Not all sunglasses are made the same. Your sunglasses should cover your eyes and offer the appropriate UV protection. UV-light has been shown to increase the likelihood for AMD. Visit our office to browse our selection and talk to our opticians about the importance of good UV protecting sunglasses.
3. Stop smoking. Did we mention that smoking increases your risk of AMD by 2.5 times? Visit the Mayo Clinic's website for a list of ways to help stop smoking.
4. Eat a balanced diet of leafy green and brightly pigmented fruits and vegetables. A good diet is full of antioxidants that can prevent the start or the progression of drusen and other age-related macular degeneration changes.
5. Consider taking a supplement for macular health. Talk to your optometrist about supplements available to decrease your risk of AMD or to prevent progression if you have already been diagnosed. At David A. Fullenkamp, OD, PC, we recommend MacuHealth supplements. These are available at our office for purchase!